Do you ever wish you knew more about cooking and how to buy the right ingredients? 
Do you want to confidently explore the farmers market and the isles of grocery stores?
Well that's why we started the "Back to Basics" series from the Ziyad Kitchen. Back to Basics provides an opportunity to learn and fall in love with basic recipes and pantry staples. We hope that by sharing basic ingredients and techniques, you will gain your confidence in the kitchen and cooking will become more of a joy than a chore. Back to Basics Cooking goes beyond just following a recipe. We want you to truly appreciate pantry basics and discover versatile ways to use them. Let's start cooking!
Back to Basics -Hummus Recipes:
Basic Hummus: https://www.ziyad.com/recipe/basic-hummus
Easy Green Hummus: https://www.ziyad.com/recipe/easy-green-hummus
Easy Beetroot Hummus: https://www.ziyad.com/recipe/easy-beetroot-hummus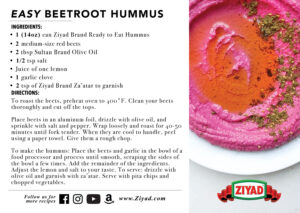 Easy Red Pepper Hummus: https://www.ziyad.com/recipe/easy-red-pepper-hummus